Wil je gaan starten met het kweken van eigen kiemen in huis? Een verstandige en goede keuze! Het zelf kweken van kiemen heeft namelijk enorm veel voordelen. Als je wilt gaan beginnen, kun je op zoek naar een speciale kiemer, kiempotten, kweeksysteem of een ander hulpmiddel. Heb je de juiste spullen in huis? Dan is het erg eenvoudig om te starten. Het kan dan eigenlijk niet fout gaan. Je hebt in principe drie opties: kiemen kweken in een zak, bak of pot. Daarnaast zijn er ook speciale automatische systemen op de markt, maar deze raden we voor de beginner (nog) niet aan. Begin klein en ontdek hoe leuk het is om dit te doen in eigen huis!
Populairste methode: kiemen kweken in een glazen pot
De meeste beginners – en vaak ook de gevorderde kiemer – maakt gebruik van deze methode. De glazen pot is ideaal om mee te beginnen. Speciale kweekpotten zijn overal verkrijgbaar, zoals je hieronder goed kan zien. Voordeel is dat je zaden kan weken en kiemen in dezelfde pot. Nadeel is dat deze methode iets gevoeliger is voor schimmels. Toch raden wij deze methode aan, omdat het goedkoop, eenvoudig en snel is!
Kiemzakken kopen
Wil je je meer gaan richten op peulvruchten en granen? Dan kun je dat erg goed doen in een hennep kiemzak. Deze zakken zijn sterk en duurzaam en behouden hun vorm – ook na intensief gebruik. Deze methode is, in tegenstelling tot de bovenstaande methode, niet erg gevoelig voor schimmels.
Kiembakken en kiemtorens
De meeste kiembakken zijn gewoon gemaakt van plastic en werken volgens het broeikasprincipe. Ze hebben een deksel waarmee het vocht in het bakje wordt gehouden. Je kan op deze manier snel veel kiemen kweken. Een bakje of toren is ook nog eens eenvoudig in onderhoud en ziet er leuk uit in het interieur!
Speciale kweeksystemen voor jong en oud
Het merk CressToday maakt prachtige kiemsystemen. Volgens de fabrikant: kun je "Met CressToday kun je je eigen cressen (ook bekend als micro greens) kweken, tot maximaal vijf verschillende soorten tegelijk." Dit prachtige systeem zal niet misstaan in jouw huis!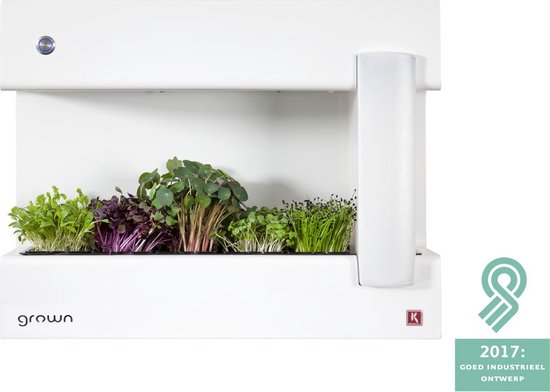 CressToday | Binnentuin kweeksysteem voor cressen / micro-greens / kiemgroente - incl. 5 kweekmatten
as of 7 juli 2020 7:03 am
Credit hoofdafbeelding: Photo by Milada Vigerova on Unsplash