Sinds wij bezig zijn met het uitbreiden van onze "plantencollectie" kregen wij reclame te zien van planten hutten, huizen (en plantenhangers) in verschillende soorten en maten. Hier waren wij meteen helemaal weg van! Toch heeft het nog even geduurd voordat wij onze eerste planten-hut bestelden op plant-house.nl. We hebben de hut gisteren "gebouwd" en hij heeft nu een mooi plekje in onze grote cactus. Benieuwd? Lees dan snel verder!
Waar koop je een planten-hut of planten-huis?
Plant-House.nl is één van de plekken waar je een eigen planten-hut kan kopen. Je vindt hier vier verschillende modellen. Een kraaiennest, een planten-huis, een planten-hut en een limited edition planten-schuur. Je koopt hier bouwpakketjes die je zelf in elkaar kan zetten. Je hebt zelf alleen een scherp mesje zoals een stanleymes nodig. Je kan de bouwpakketten ook kopen op Bol.com en in verschillende winkels. Ook op de website Animaux Spéciaux vind je verschillende plantenaccessoires zoals huisjes en plantenhangers. Hier vind je onder andere een mooie messing mini boomhut en een mini vogelhuisje. Ook grappig: De goudkleurige plantenprijs "still alive".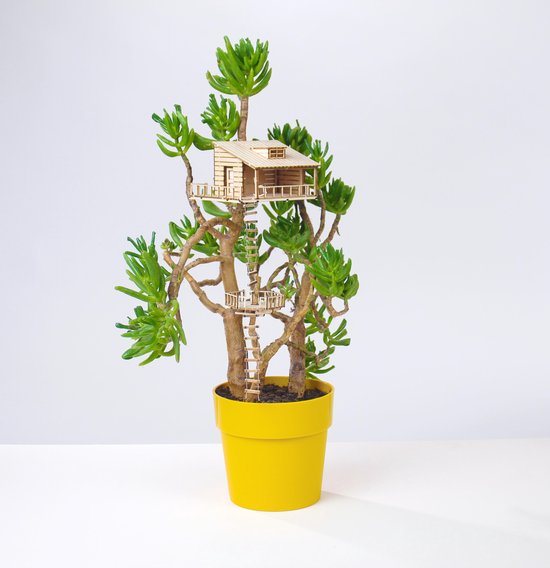 The Amazing Plant-hut | miniature treehouse
Bekijk
Bol.com
as of 26 juni 2020 6:50 am
De planten-hut in elkaar zetten
Om de planten-hut in elkaar te zetten moet je echt even rustig de tijd nemen. Wanneer je gehaast aan de slag gaat is de kans groot dat er stukjes afbreken. Het hout is namelijk erg dun en kwetsbaar. Niet erg want daarom weegt het ook bijna niks, maar het is wel belangrijk om voorzichtig met het materiaal aan de slag te gaan. De lijm en het draad dat je nodig hebt zijn inbegrepen in het pakket. Je hebt alleen nog een scherp mesje nodig om de onderdelen voorzichtig uit te kunnen snijden. Wij hebben hier een stanleymesje voor gebruikt en dat ging perfect. Ook moet je een ondergrond hebben om eventuele druppels lijm op te vangen. Wij hebben hiervoor een wit a4tje gebruikt.
Het stappenplan
Bij de planten-hut krijg je een duidelijk stappenplan. Het stappenplan is erg duidelijk en voorzien van handige illustraties. Gelukkig is het niet moeilijk om de planten-hut te bouwen. Wel is het af en toe een priegelwerkje met die kleine en lichte onderdelen. Maar geduld is een schone zaak! 😉 In 7 stappen heb je de hut in elkaar gezet. De stappen 8 tot en met 11 zijn voor de accessoires zoals het raam op het dak, de ladder, de schommelstoel en de deur. Er blijft nog wat hout over waar je zelf nog iets van kan fabriceren mocht je daar zin in hebben.